Soloists & Orchestra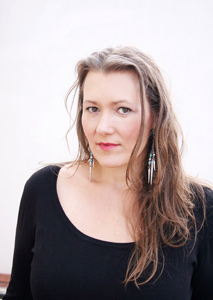 Carla Filipcic Holm, born in Buenos Aires, is currently considered one of most prestigious and highly sought-after sopranos in Argentina. After concluding her studies, Carla moved to Germany to specialize in the German Repertory with Siegfried Jerusalem. She has won numerous scholarships, singing competitions, and her professional work has been celebrated by the press on numerous occasions, having received the Clarin Award, as well as the Music Critics Association distinction as "Best Argentinian singer". Since her debut as Fiordiligi (Cosi fan tutte), she has sung leading parts in opera and symphonic repertory in the most important theaters in her country such as Teatro Colón de Buenos Aires. Among them, she is always remembered for her Agathe (Der Freischütz), Agrippina, Female Chorus (The Rape of Lucretia), Donna Anna and Donna Elvira (Don Giovanni), Elisabeth de Valois (Don Carlos), Magda Sorel (The Consul) Vitellia (La clemenza di Tito) and Tatiana (Eugene Onegin). Her deep passion for chamber music has led her to maintain a very active schedule in that field. Carla has performed in festivals, opera and concert houses in Latin America, Switzerland, The United States, and Germany where she sang Elisabeth (Tannhäuser), Suor Angelica, Mother (Il prigioniero) and Elisabetta de Valois in the latest production of Don Carlo Teather Lübeck, awarded as the Best Opera Production of the 2014 Season in Germany (Awards Der Faust). She recently sang Misa Tango (Palmeri) at Carnegie Hall, and her upcoming engagements include her debut as Marschallin (Der Rosenkavalier) and Elsa (Lohengrin).

Pablo Mainetti, Bandoneon. Born 1971 in Buenos Aires, Pablo Mainetti has shown an interest in Tango since his early childhood. At the age of 14 he starts studying Bandoneon and the engagement with the instrument awakens the curiosity for the underlying musical structures of the Tango.
Pablo Mainetti began his studies with Rodolfo Mederos and was later taught by Daniel Binelli, Julio Pane and Néstor Marconi. He then continued his studies in harmony, orchestratrion, composition as well as in counterpoint music with Rodolfo Mederos, Gabriel Senanes, Daniel Montes and Francisco Kroftl. He moved to Barcelona where he started a career as a composer at the Conservatorio Profesional de Badalona together with Alejandro Civilotti.
For the Compañía de baile Lanonima Imperial he writes the music for the ballets "Diario de Unas Horas" and "Gestos del Camino". He composes a work for marimba and quintette; "Milonga para Miles" a piece for trumpet, bandoneon and string orchestra in honour of Miles Davis; as well as "Tres Rincones", a work for bandoneon and string orchestra in three movements. The recording of this work was nominated for the Grammy Latin Awards in 2004. Furthermore he has written pieces such as "Fuga Parisina" for bandoneon and chamber orchestra and the chamber music pieces "El Quijote", "Raptos" and "Breaking silence". His opera "Ultramarina", based on texts by Edgardo Cozarinsky and scenarised by Marcelo Lombardero premiered in May 2014 in Buenos Aires and received critical acclaim.
As a Bandoneon player Pablo Mainetti has worked with the most important Argentinian formations and his career has led him on to the most prominent stages in Argentina, Uruguay, Brazil, Spain, England, France, Germany, Italy, United States of America, Japan, China and Korea where he worked together with artists such as Rodolfo Mederos, Roberto Goyeneche, Julian Plaza, Emilio Balcarce, Julio Pane, Osvaldo Berlingieri, Ute Lemper, Carlos Cano or Joan Manuel Serrat. On numerous occasion he has performed Astor Piazzola´s Concierto para Bandoneón i.e. with the Orquesta del Teatre Liure (Barcelona), the Orquesta de la Comunidad de Granada, the BBC in London, the Theatre du Capitol de Tolouse and the Orquesta Nacional de España, directed by Josep Pons and recorded for the label Harmonía Mundi, as well as the Real Filarmonía de Galicia, directed by Manuel Valdivieso. He is a member of the Quinteto de la Fundación Piazzola and additionally has his own quintet. Pablo Mainetti is professor of bandoneon at the Conservatorio de Música de la Ciudad de Buenos Aires and at the Conservatorio Manuel de Falla.

Austrolatin Orchester
Since 2011 there is a fusion of classical music and musicians from Europe and Latin America in Vienna. The name of this innovative project: Austrolatin Orchestra. Founded in 2010 by Anabell Garfio (Mexico), Luis Cordero (Guatemala), Martin Wacks (Austria) and Luis Carlos Muñoz (Colombia), our goal is to offer the best of European and Latin classical music in the music city of Vienna. This makes every concert a new musical experience for the audience as well as for the musicians.