Composer & Conductor
Martín Palmeri - composer, pianist, choir and orchestra conductor

Born in Buenos Aires in 1965. He studied composition with Daniel Montes, Marcelo Chevalier, Rodolfo Mederos, Virtú Maragno and Edgar Grana (New York), choral conducting with Antonio Russo and Nestor Zadoff, conducting with Mario Benzecry, singing with Amalia and Jose Estevez Create, and piano with Eduardo Paez and Orlando Tripodi.
He has authored numerous choral works, instrumental and operas, among which are mentioned Tango del Bicentenario, released by the Qatar Symphony, Song of the distance, released in 2010 by the Choir of Buenos Aires, Christmas Oratorio premiered at the UBA Law School (2003), Matthew, opera premiered at the Teatro Roma in Avellaneda (1999) and recorded on the State Radio Bratislava (Slovakia), Tango Fantasy premiered in St. Petersburg, Russia ( 2000), Omens released in Matera, Italy, (2001), Concerto for bandoneon at the Teatro Roma in Avellaneda (2004), dance concert, Black and black and On the four seasons.
In recent years he has been invited to lead and participate as a pianist in the interpretation of his work Misatango (premiered by the National Symphony Orchestra of Cuba in 1996) in Germany, Argentina, Austria, Belgium, Brazil, Chile, Ecuador, Slovakia, Spain, Holland, Israel, Italy, Latvia, Lithuania, Russia, Switzerland and USA. This work was selected to be part of the ateliers of Europa Cantat 2009 (Utrecht, Netherlands), and has been interpreted by renowned conductors, soloists and orchestras in cities across the world.
Martín Palmeri received the First Prize at the Choral arrangements organized by AAMCANT (Asociación Argentina para la Música Coral), 2011. The National University of Rosario awarded him First Prize in the 2010 National Choral Arrangements Competition. The National Endowment for the Arts grants in 2003 the first prize in the genre "Symphonic Work Essay Contest Juan Carlos Paz" for his Concerto for cello and orchestra dances. Several of his compositions have been recorded on CDs produced in Italy, Latvia and Argentina.
Recently he has been invited to perform his work Mass Buenos Aires Misatango next October 29 in the Basilica San Ignacio de Loyola in the city of Rome in a concert in honor of Pope Francisco, next to the Cathedral Choir of Koln (Germany) and the Roma Sinfonietta, organized by the Fondazione Pro Musica e Arte Sacra.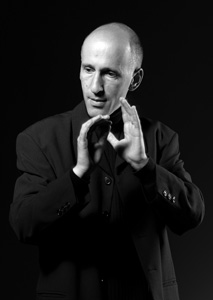 Saul Zaks

Born in Buenos Aires in 1961, is the conductor of the University of Southern Denmark Symphony Orchestra & Chamber Choir. He performed the Misatango with Martín Palmeri several times and at the Scandinavian premiere in December 2014. Saul Zaks has been a conductor of the Jerusalem Kaprizma Ensemble for Contemporary Music, the Jerusalem Academy of Music Ensemble for Contemporary Music and a guest conductor for The Danish Radio Choir & Symphony Orchestra.
He also worked for many years as a lecturer at the Musicology Institute, University of Copenhagen and at the Danish National Academy of Music. Saul Zaks is a guest professor in choral conducting at the University of Buenos Aires, Universidad Católica de Asunción del Paraguay, Conservatorio Nacional de Bolivia, Universidad Federal de Rio de Janeiro and Universidad de Oriente, Santiago de Cuba.
He specializes in music from Latin America and has performed and recorded with, amongst others, the composer Ariel Ramirez, the singer Mercedes Sosa and the composer & pianist Pablo Ziegler.
Saul Zaks completed his conducting studies at The Jerusalem Academy of Music & Dance, Israel, with Prof. Mendi Rodán and received a diploma in musical theory, history of western music and conducting from the Danish National Academy of Music. Saul Zaks received additional conducting studies ​from​ Jorma Panula (Helsinki) and Andrew Parrott (Oxford).
Saul Zaks is Ambassador for Argentina and for Denmark at the Summa Cum Laude International Youth Music Festival Vienna and a member of the Advisory Board of the European Network of University Orchestras.
His recording of Asger Hamerik´s "Korsymfoni and Requiem" together with the Danish National Radio Choir & Symphony Orchestra and Thomas Dausgaard was chosen as Recording of the Month in Europe in 2006 (DaCapo 8.226033, 2006).
Saul Zaks has recently also gained a nomination to the Latin Grammy Award 2016 in the category "Best Tango Album" together with Pablo Ziegler, Julio Botti and the University of Southern Denmark Symphony Orchestra.


http://saulzaks.com/