Soloists & Orchestra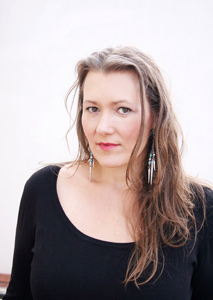 Carla Filipcic Holm, born in Buenos Aires, is currently considered one of most prestigious and highly sought-after sopranos in Argentina. After concluding her studies, Carla moved to Germany to specialize in the German Repertory with Siegfried Jerusalem. She has won numerous scholarships, singing competitions, and her professional work has been celebrated by the press on numerous occasions, having received the Clarin Award, as well as the Music Critics Association distinction as "Best Argentinian singer". Since her debut as Fiordiligi (Cosi fan tutte), she has sung leading parts in opera and symphonic repertory in the most important theaters in her country such as Teatro Colón de Buenos Aires. Among them, she is always remembered for her Agathe (Der Freischütz), Agrippina, Female Chorus (The Rape of Lucretia), Donna Anna and Donna Elvira (Don Giovanni), Elisabeth de Valois (Don Carlos), Magda Sorel (The Consul) Vitellia (La clemenza di Tito) and Tatiana (Eugene Onegin). Her deep passion for chamber music has led her to maintain a very active schedule in that field. Carla has performed in festivals, opera and concert houses in Latin America, Switzerland, The United States, and Germany where she sang Elisabeth (Tannhäuser), Suor Angelica, Mother (Il prigioniero) and Elisabetta de Valois in the latest production of Don Carlo Teather Lübeck, awarded as the Best Opera Production of the 2014 Season in Germany (Awards Der Faust). She recently sang Misa Tango (Palmeri) at Carnegie Hall, and her upcoming engagements include her debut as Marschallin (Der Rosenkavalier) and Elsa (Lohengrin).

Pablo Mainetti, Bandoneon. Born 1971 in Buenos Aires, Pablo Mainetti has shown an interest in Tango since his early childhood. At the age of 14 he starts studying Bandoneon and the engagement with the instrument awakens the curiosity for the underlying musical structures of the Tango.
Pablo Mainetti began his studies with Rodolfo Mederos and was later taught by Daniel Binelli, Julio Pane and Néstor Marconi. He then continued his studies in harmony, orchestratrion, composition as well as in counterpoint music with Rodolfo Mederos, Gabriel Senanes, Daniel Montes and Francisco Kroftl. He moved to Barcelona where he started a career as a composer at the Conservatorio Profesional de Badalona together with Alejandro Civilotti.
For the Compañía de baile Lanonima Imperial he writes the music for the ballets "Diario de Unas Horas" and "Gestos del Camino". He composes a work for marimba and quintette; "Milonga para Miles" a piece for trumpet, bandoneon and string orchestra in honour of Miles Davis; as well as "Tres Rincones", a work for bandoneon and string orchestra in three movements. The recording of this work was nominated for the Grammy Latin Awards in 2004. Furthermore he has written pieces such as "Fuga Parisina" for bandoneon and chamber orchestra and the chamber music pieces "El Quijote", "Raptos" and "Breaking silence". His opera "Ultramarina", based on texts by Edgardo Cozarinsky and scenarised by Marcelo Lombardero premiered in May 2014 in Buenos Aires and received critical acclaim.
As a Bandoneon player Pablo Mainetti has worked with the most important Argentinian formations and his career has led him on to the most prominent stages in Argentina, Uruguay, Brazil, Spain, England, France, Germany, Italy, United States of America, Japan, China and Korea where he worked together with artists such as Rodolfo Mederos, Roberto Goyeneche, Julian Plaza, Emilio Balcarce, Julio Pane, Osvaldo Berlingieri, Ute Lemper, Carlos Cano or Joan Manuel Serrat. On numerous occasion he has performed Astor Piazzola´s Concierto para Bandoneón i.e. with the Orquesta del Teatre Liure (Barcelona), the Orquesta de la Comunidad de Granada, the BBC in London, the Theatre du Capitol de Tolouse and the Orquesta Nacional de España, directed by Josep Pons and recorded for the label Harmonía Mundi, as well as the Real Filarmonía de Galicia, directed by Manuel Valdivieso. He is a member of the Quinteto de la Fundación Piazzola and additionally has his own quintet. Pablo Mainetti is professor of bandoneon at the Conservatorio de Música de la Ciudad de Buenos Aires and at the Conservatorio Manuel de Falla.

Youth Chamber Orchestra VIOLINISSIMO, Erding
The youth chamber orchestra VIOLINISSIMO was founded by the violinist Ulli Buesel in 2004 to allow children and young people to present their solo pieces with orchestra accompaniment within the framework of charity concerts.
Hereby, the young soloists lead the orchestra themselves. Consequently, they do not only have their own melody in mind, but also understand the connection of all instruments. Listening, looking, reacting and still self-determined and individual playing all belong to the main principle.
This concept was transferred by VIOLINISSIMO and its artistic director Ulli Buesel to orchestra pieces. That leads to a highly improved understanding of the composition. In principle, this means to transfer the chamber music idea to a whole orchestra: Though the principal players of each group cue the other players, there are no passive players. Everyone has to come in and perform actively. Everyone can rely on everyone else. This leads to a distinct team spirit, which is even more surprising considering the age differences of the players.
Almost all members of VIOLINISSIMO are award winners of the competition "Youth makes music".
Besides regular charity concerts in the district of Erding, the youth chamber orchestra VIOLINISSIMO was winner of the Bavarian Orchestra Competition 2011 and 2015.
Subsequently they won also the German Orchestra Competition 2012 and 2016.
In July 2012 VIOLINISSIMO represented Germany at the Singapore Youth Festival and Ulli Büsel and the Youth Chamber Orchestra got the Tassilo Culture Award granted by the Sueddeutsche Zeitung.
In the same year the Ensemble was honored with the signature in the Golden Book of Erding (near Munich), the hometown of VIOLINISSIMO. In addition the ensemble was awarded the "Rotary Music Prize 2013″ and in summer 2013 they won 1st prize with "outstanding success" at International Orchestra Competition "Summa Cum Laude" in Vienna.
In June 2014 VIOLINISSIMO performed a very successful concert-event at the Carnegie Hall in New York as part of the "Sounds of summer festival".
Last year the Youth Camber Orchester presented a really varied and energetic program at the Great Hall of the University Mozarteum Salzburg and at a charity concert-event during the festival "Diabelli Sommer Mattsee".
The repertoire of JKO VIOLINISSIMO includes "classical" pieces of barock, classic and romantic and reaches up to sound tracks, commissioned compositions or performances of contemporary composers.