Soloists & Orchestra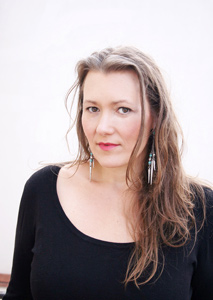 Carla Filipcic Holm, born in Buenos Aires, is currently considered one of most prestigious and highly sought-after sopranos in Argentina. After concluding her studies, Carla moved to Germany to specialize in the German Repertory with Siegfried Jerusalem. She has won numerous scholarships, singing competitions, and her professional work has been celebrated by the press on numerous occasions, having received the Clarin Award, as well as the Music Critics Association distinction as "Best Argentinian singer". Since her debut as Fiordiligi (Cosi fan tutte), she has sung leading parts in opera and symphonic repertory in the most important theaters in her country such as Teatro Colón de Buenos Aires. Among them, she is always remembered for her Agathe (Der Freischütz), Agrippina, Female Chorus (The Rape of Lucretia), Donna Anna and Donna Elvira (Don Giovanni), Elisabeth de Valois (Don Carlos), Magda Sorel (The Consul), Vitellia (La clemenza di Tito) and Tatiana (Eugene Onegin). Her deep passion for chamber music has led her to maintain a very active schedule in that field. Carla has performed in festivals, opera and concert houses in Latin America, Switzerland, The United States, and Germany where she sang Elisabeth (Tannhäuser), Suor Angelica, Mother (Il prigioniero) and Elisabetta de Valois in the latest production of Don Carlo (Theater Lübeck), awarded as the Best Opera Production of the 2014 Season in Germany (Awards Der Faust). She recently sang Misatango (Palmeri) at Carnegie Hall, and her upcoming engagements include her debut as Marschallin (Der Rosenkavalier) and Elsa (Lohengrin).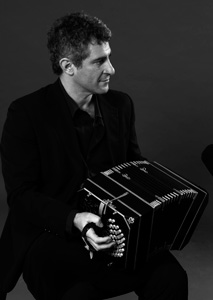 Pablo Mainetti, Bandoneonist and Composer


Pablo Mainetti was born in Buenos Aires in 1971 but his education has been between his born city, Barcelona and Paris.
He plays in the most important orchestras and tango ensembles as: Leopoldo Federico, Julian Plaza, Emilio Balcarce, la Orquesta de Tango de la Ciudad de Bs. As., Carlos García, Sexteto Mayor, Atilio Stampone, Osvaldo Berlingieri, Néstor Marconi, Rodolfo Mederos, Orquesta Juan de Dios Filiberto, Julio Pane, Daniel Binelli. He has also shared the stage with good singers such as among others Roberto Goyeneche, María Graña, Raúl Lavié, Rubén Juárez, Susana Rinaldi, Alba Solís, Amelita Baltar, Eladia Blazquez, Ute Lemper, Mercedes Sosa, Juan Manuel Serrat.
As a bandoneon soloist Pablo Mainetti has among others played with Orquestas Sinfónicas del Teatro Liure (Barcelona), Orquesta Nacional de España, BBC de Londres, Capitolio de Tolouse, Gubenkian de Lisboa, Orquesta de Granada, Orquesta Sinfónica de Navarra, OCB (Orquesta Ciudad de Barcelona), Orquesta Sinfónica de Praga, Orquesta de Poitiers, Orquesta de Niza.
Under the direction of Josep Pons he recorded the "Concierto para Bandoneón y Orquesta de Astor Piazzolla" for Harmonia Mundi, with the Orquesta de Cámara del Teatro Liure.
Conducted by Ernest Martinez Izquierdo, he played his arrangments of Piazzolla´s tango music for Bandoneón and Symphony Orchestra, commissioned in a co-production between Orquesta Ciudad de Barcelona y Sinfónica de Navarra.
He has also participated as a soloist in the National Symphony Orchestra (Argentina) under the direction of the conductors Pedro Ignacio Calderón, Facundo Agudin, Mariano Chiacchiarini, Jose Maria Sciutto y Luis Vacalov.
He currently leads his own group, Pablo Mainetti Quinteto and is part of the Duet Mainetti – Angeleri, the Quintet of the Foundation Astor Piazzolla and the National Selection of Tango.
As a composer he writes works for solo instruments, songs and tangos, to chamber music and orchestra, concerts, ballets, and operas. Among his works include La luna sanada (Homage to Arnold Schönberg), El Quijote (Tango quarter), Cadencia para un concierto ausente (Piano solo), En Silencio (lyric by Evaristo Carriego), Breaking Silence (Bandoneon and string quartet), Eolicas (Bandoneon y woodwinds quartet), Ultramarina (chamber opera, lyrics by Edgardo Cozarinsky and regie Marcelo Lombardero), La última comilona (Opera lyrics by Jon Paul Laka and regie Michal Znaniecki)
He was nominated for the following awards: Grammy Latino 2004 for his CD Tres Rincones, Premio Clarín for the Tango Personality, Premios Ace for the opera Ultramarina music, and the rewards Gardel to the Best Tango Album with Mainetti-Angeleri Duet.
Youth Chamber Orchestra VIOLINISSIMO, Erding/ Germany

The Youth Chamber Orchestra VIOLINISSIMO was founded in 2004 by the violinist Ms. Ulli Büsel to enable young musicians to present their solo pieces with orchestra accompaniment, to develop their abilities and to gain professional experience on stage during performances in concerts which take place mostly as charity events.

The VIOLINISSIMO does perform without a conductor as the young soloists are directing the orchestra themselves. Thanks to this special concept developed by the artistic director Ms. Ulli Büsel the young musicians have been guided to making music self-responsibly and independently. The respect among each other and the profound understanding of music demand from each individual full concentration and full contribution to the group. Not just to participate but to be an active part of the music making. For music director Ulli Buesel, though, it is vitally important that each player retains his/her personal individuality.

This concept was transferred by VIOLINISSIMO and its artistic director Ulli Büsel to the music pieces which lead to a highly improved understanding of the composition. In principle, this means transferring the chamber music idea to an entire orchestra: Though, the principal players of each group cue the other players, there are no passive players in the orchestra. Everyone has to come in and perform actively. Everyone can rely on everyone else. This leads to a distinct team spirit, which is even more surprising considering the age differences of the players. Ulli Büsel's special commitment towards musical education is therefore highly recognized.

Almost all members of VIOLINISSIMO are award winners of the competition "Jugend musiziert" ("Youth makes music"). Besides regular charity concerts, the Youth Chamber Orchestra VIOLINISSIMO takes part in national and international competitions and is the winner of various competitions – among others:

☆ Winner of the Bavarian Orchestra Competition 2011
☆ Winner of the German Orchestra Competition 2012
☆ Tassilo Culture Award granted by Süddeutsche Zeitung 2012
☆ VIOLINISSIMO represents Germany at the "Singapore Youth Festival" with concerts at the Cultural Centre Hall and at the Great Hall in SOTA
☆ 2012 VIOLINISSIMO and ist artistic director Ms Ulli Büsel were honored with the signature in the Golden Book of Erding (near to Munich), hometown of VIOLINISSIMO
☆ Rotary Music Award 2013
☆ Award with distinction at the International Orchestra Competition "Summa Cum Laude" in Vienna – concerts at the Golden Hall of Musikverein and at the Great Hall of the Wiener Konzerthaus 2013
☆ VIOLINISSIMO represents Germany at the "International Music Festival New York 2014" – Gala Concert at the Carnegie Hall
☆ VIOLINISSIMO represents Germany at the "Cantus Music Festival" at the Great Hall of Mozarteum in Salzburg and performs a beneficiary concert for AMREF at the Diabelli-Summer in Austria 2015
☆ Winner of the Bavarian Orchestra Competition 2015
☆ Winner as the best Bavarian Orchestra in all categories of the German Orchestra Competition in Ulm, concert at the Cathedral in Ulm 2016
☆ VIOLINISSIMO represents Germany at the "International Misatango-Festival" in the Wiener Konzerthaus 2017

Since November 2015 the VIOLINISSIMO has been cooperating with the Music School Erding, which opens further possibilities for the young string players and enriches the cultural life in the district of Erding.
The chamber ensemble of VIOLINISSIMO is the next step of this special concept. 8 to 12 musicians of the Orchestra – all of them students at the Music Academy or future students – come together for selected projects to develop their chamber music skills and to realize their own artistic ideas.

The repertoire of the VIOLINISSIMO includes "classical" pieces of baroque, classic and romantic periods and reaches up to sound tracks, commissioned compositions and contemporary music. The diversity of the orchestra repertoire allows the creation of fascinating and manifold programs.

The artistic director, Ms Ulli Büsel, is convinced that it is of essential importance for the young artists to get involved with contemporary music. Therefore she is in continuous search of rarely performed works to challenge the students to come up with their own thoughts and suggestions for the interpretation and not only to reproduce the music according to accessible YouTube and CD resources.

Recently, the Bavarian Radio made a recording with the orchestra. The CD with the recorded music by J. S. Bach, Mozart, Grieg, Ysaye, Piazzolla and the Canadian composer Alan Torok will be released later this year.