Misatango Festival, September 2017 - Vienna
Participating Choirs:
Andover Choral Society
The Andover Choral Society is an American community chorus with a mission to provide high-quality choral music to northeastern Massachusetts and southern New Hampshire. Founded in 1929, the Andover Choral Society is one of the oldest continually performing choral groups in the United States. Membership in the Andover Choral Society is open to anyone with a love of great choral music and the desire to share that love with others.  Dr. Michael Driscoll has served as music director since 2013.  The Andover Choral Society is represented by 14 singers at the Misatango Choir Festival in Vienna.  
The Andover Choral Society performs two concerts each year, singing a repertoire that focuses on fine choral and choral-orchestral works from the Baroque era through the twenty-first century.  In January 2017, the 65-member chorus performed Misa a Buenos Aires (Misatango), accompanied by a professional soloist, orchestra, and bandoneón player, to an audience of more than 450 concertgoers.  Other recent choral concerts have included Mozart's Coronation Mass, Schubert's Mass No. 3 in B-flat, Orff's Carmina Burana, and Bach's Magnificat in D.  More information on the Andover Choral Society can be found at andoverchoralsociety.org.
Coral do Senado

The choir started its activities under the direction of Glicínia Mendes in August 1996.
The choir singers are members of the institution who love choral singing. No prior experience is required.
Recorded CD's until today: "Canta Brasil" and "Hinos do Brasil".
In July 2005 the choir performed Bizet's "Carmen" at the National Theatre as the invited choir by Opera Studio (University of Brasília).
Symphonic choral repertoire performances include: "Mass in D Major" - A. Dvorak; Festival Mass - J. Leavitt; "The Messiah" - G.F. Handel; "Misa a Buenos Aires: Misatango" - Martín Palmeri.
The group has performed throughout Brazil, Argentina, Chile, Uruguay, Ecuador and the United States.
Concerts in partnership with other choirs and orchestras include: "Chorus Fraternité" (with Brasília's Madrigal in June 2007); "Christmas Concert" (with Personare in December 2009); Misatango by Martín Palmeri - première in Brasília (with Coro Lírico and Orchestra both from Brasília's Music School in June 2011); Misatango première at Carnegie Hall, New York – USA, (with ten other choirs from all over the world in January 2015);   Misatango première in Natal, Rio Grande do Norte State - Brazil (with Vocal Group Octo Voci and Rio Grande do Norte University Orchestra in September 2015).
 
The Brazilian Senate Choir celebrated its twenty years in December 2016, at this occasion it presented staged excerpts by G. Bizet's Carmen.
Coro Eurolatinoamericano
We are a mixed choir based in Vienna with approximately 40 members originating from different Latin-American and European (mainly Austria) countries. The choir was founded in 2003 by Prof. Rubén Guarnaschelli of Argentinean origin, who also directed the choir until 2009. That year our current conductor, Pablo Boggiano, who was born in Argentina as well, assumed the artistic leadership. The "Coro Eurolatinoamericano" has had many perfomances at different locations in Vienna, Lower Austria and Salzburg and completed a concert tour through Argentina and Uruguay in 2007. The choir participated in the flashmob "Ode an die Freude" in the ballroom of the Viennese City Hall on the occasion of the Vienna City Marathon (2014), was part of Martin Palmeri's tango opera "Mateo" in the Theater Akzent in Vienna (2015) and has regularly performed at the choir festival "Internationales Adventsingen" in the Viennese City Hall for several years.  We perform Latin-American music in a broad sense and in different languages (Spanish, Portuguese and indigenous languages). Our aim ist to have a repertoire of folk songs and compositions of every Latin-American country, among these important works of contemporary composers like the "Misa Criolla" of Ariel Ramirez, which we performed amongst several other occasions in St. Stephen's Cathedral (2010) and in collaboration with the reknown Argentinian ensemble "Opus 4" (2014) and also "Navidad Nuestra".
Ensemble Vocal Hémiole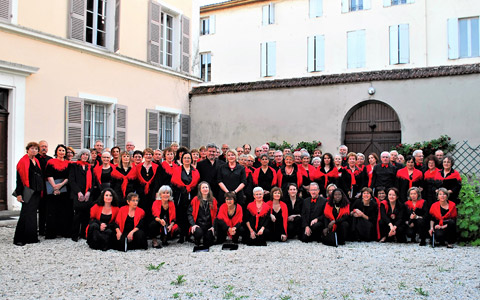 The "Ensemble Vocal Hémiole", renamed this way in 2006, is based in Mérignac, near Bordeaux.
Today it comprises approximately 90 singers, recruited on hearing, subject to assiduity and to a regular personal work from CDs of learning. The weekly rehearsals are accompanied with a professional pianist and give rise to several concerts in the year, in several cities of the Bordeaux region and the southwest of France. Choir head from 2006 on is Michèle Lhopiteau-Dorfeuille.
The artistic orientation is to attract to music a wide public, by serving known classical and sacred works, but also songs of the world from international origin.
It is also the opportunity for the choir to discover other parts less often, even never sung in Aquitaine and even in France: for example in 2008 Franz Lachner's "Requiem", in 2011 the "Stabat Mate" of Jenkins, in 2012 Martin Palmeri's "Misatango"- which became famous in France at this time- and in 2016 the "Magnificat" of same Palmeri.
The last musical seasons include the following programs:
    •    2017: Songs of the world: Joseph Haydn's "Danklied" and Michael Haydn's "Missa Sancti Hieronymi"
    •    2016: Martin Palmeri's "Magnificat" and "Magnificat" of Vivaldi, "Songs of French Renaissance"
    •    2015: "Cantata n° 140" of Bach, "Credo" of Lotti and "Italian works" (Marcello, Monteverdi …)
    •    2010: "Mass in D" of Dvorak
    •    2009: Fauré's "Requiem"
The choir Hémiole often interpreted the "Misatango": June 2012 in Bordeaux (first performance in France), January 2015 in New York (by the chorus-singers who will be present in Vienna this summer), March 2016 in Bordeaux, July 2016 in Vertheuil (Médoc region near Bordeaux), December 2016 in Bordeaux and Bergerac, with orchestra and choirs from Argentine.
It was on several occasions under the direction of Martin Palmeri himself!
Konzertchor Oberbaselbiet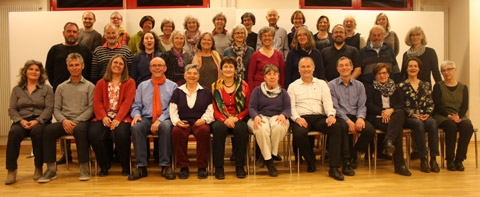 Konzertchor Oberbaselbiet was founded in 1975 by Thildy Lüthy and some friends who loved to sing. She conducted the choir successfully over 20 years. In these years the choir changed from a local to the biggest regional choir in the area.
Today the choir comprises about70 members and organises two concerts every year. Our repertoire ranges from baroque to modern composers.
A smaller spring concert is devoted to folk music from all over the world e.g. nordic, swiss or south american songs but also to numerous other types of music as Kletzmer, musicals, Walt-Disney-tunes or music of the Twenties just to name a few of them.
In Autumn or early winter the choir opts for major classical compositions. Beautiful romantic composers (e.g. Mendelssohn, Grieg, Reger etc.) have been performed. Romantic outdoor concerts accompanied with poem reading (Eichendorff) were successful events. Konzertchor Oberbaselbiet always gives priority to work together with regional orchestras and young solists and stands for a large musical variety. Our concerts of Mozart's Great Mass in C Minor, Handel's Solomon and Messiah, John Rutter's requiem, Britten's Saint-Nicolas cantata and many more were acknowledged as outstanding cultural regional events.
Since 2013 the young conductor Marco Beltrani works with us and has increased our feeling for rhythm and intensified our acoustic colour. In 2014 Palmeri's Misa a Buenos Aires was an inspiring and impressive concert which the composer attended himself and made the invitation to the Vienna festival possible.
Find more information here: www.konzertchoroberbaselbiet.ch
Voces de Buenos Aires
Voces de Buenos Aires (Voices of Buenos Aires) is integrated by choristers who once belonged to Vicente López Polyphonic Choir, one of the Argentine choirs that first performed "Misa a Buenos Aires" led by its own Composer and Conductor Martin Palmeri in the early stages of his artistic career in Buenos Aires. Only for chronological reference: Vicente López Polyphonic Choir has just turned 40 years of uninterrupted choral activity.
Since its premier in 1996, Voces de Buenos Aires have performed Mass to Buenos Aires on several occasions, not only in Buenos Aires (churches, cathedrals, theaters, including the Golden Hall of the Colon Theatre, National Radio), but also abroad (The Netherlands, Italy, and New York).
Apart from Mass to Buenos Aires, Voces de Buenos Aires also performed the World Premiere of Magnificat, also by Martín Palmeri, at Season of Great Concerts, Faculty of Law, and Ars Nobilis, both in 2013.
Further on down the road of music, Voces de Buenos Aires members have joined other choirs interpreting compositions from different periods and styles, both a capella as well as symphonic and choral, mostly accompanied by qualified orchestras.
Among other performances, this group has also participated in:
The Daughter of the Regiment, Donizetti, Roma Theater (2005)
Aida (Verdi), Avenida Theater, Buenos Aires (2008)
Fidelio (Beethoven), Avenida Theater, Buenos Aires (2009)
Concert Don Bosco (2004)
Homage to Maestro Honorio Siccardi, Ciudad de Dolores (2007)
Season of Classical Concerts, San Benito Abbey (2007)
Season of Concerts, Public Association of Lawyers (2009)
Bicentennial Concert, Legislature of Buenos Aires City (2010)
Season of Great Concerts, Faculty of Law, UBA (2010)
Voices International
Voices International was begun in 1997 by Peggy Jenks, following a musical production at the International School of Luxembourg. In 2010, adhering to the same idea of uniting singers from many countries who love to sing, Voices International engaged Thomas Raoult as the new Artistic Director.
Preserving the intention to discover the richness of the choral repertoire, Thomas Raoult is seeking new directions while keeping in mind the development of the vocal quality of the choir. Voices International is the essence of Luxembourg's cultural diversity: 60 singers, 34 nationalities and around 10 concerts per year.
Some significant dates:
    •    April 2011: Participation in the musical "Las Callas", Zarzuela by the Spanish composer Federico Chueca at the Grand Theatre
    •    June 2012: Invited to the festival "Rhythms of One World" in New York, 7 concerts in different concert halls, including the Merkin Centre, Avery Fisher Hall, and the United Nations General Assembly hall.
    •    December 2013: Invited to the Vienna International Choir Festival, winning the gold medal at the closing concert in the main hall in the Musikverein.
    •    March 2016: Luxembourg première of Misatango by Martin Palmeri.
    •    December 2016: Luxembourg première of "A Christmas Cantata" by Nils Lindberg
To celebrate their 20th anniversary, Voices International has the honour of being invited to sing the Requiem of Gabriel Fauré at the Philharmonie. The Requiem will be sung again as a homage to Jean Rivier and to French music, on 17th  June at the church of the Sacré Coeur and on 18th June at the Conservatoire de Musique in Luxembourg.
In September 2017, Voices International will represent Luxembourg at the Misatango Festival in Vienna, in the presence of the composer, Martín Palmeri.
Soloists & Orchestra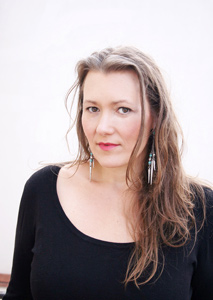 Carla Filipcic Holm, born in Buenos Aires, is currently considered one of most prestigious and highly sought-after sopranos in Argentina. After concluding her studies, Carla moved to Germany to specialize in the German Repertory with Siegfried Jerusalem. She has won numerous scholarships, singing competitions, and her professional work has been celebrated by the press on numerous occasions, having received the Clarin Award, as well as the Music Critics Association distinction as "Best Argentinian singer". Since her debut as Fiordiligi (Cosi fan tutte), she has sung leading parts in opera and symphonic repertory in the most important theaters in her country such as Teatro Colón de Buenos Aires. Among them, she is always remembered for her Agathe (Der Freischütz), Agrippina, Female Chorus (The Rape of Lucretia), Donna Anna and Donna Elvira (Don Giovanni), Elisabeth de Valois (Don Carlos), Magda Sorel (The Consul) Vitellia (La clemenza di Tito) and Tatiana (Eugene Onegin). Her deep passion for chamber music has led her to maintain a very active schedule in that field. Carla has performed in festivals, opera and concert houses in Latin America, Switzerland, The United States, and Germany where she sang Elisabeth (Tannhäuser), Suor Angelica, Mother (Il prigioniero) and Elisabetta de Valois in the latest production of Don Carlo Teather Lübeck, awarded as the Best Opera Production of the 2014 Season in Germany (Awards Der Faust). She recently sang Misa Tango (Palmeri) at Carnegie Hall, and her upcoming engagements include her debut as Marschallin (Der Rosenkavalier) and Elsa (Lohengrin).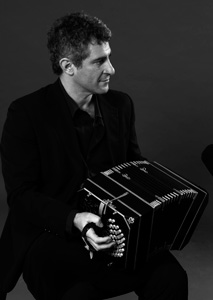 Pablo Mainetti, Bandoneon. Born 1971 in Buenos Aires, Pablo Mainetti has shown an interest in Tango since his early childhood. At the age of 14 he starts studying Bandoneon and the engagement with the instrument awakens the curiosity for the underlying musical structures of the Tango.
Pablo Mainetti began his studies with Rodolfo Mederos and was later taught by Daniel Binelli, Julio Pane and Néstor Marconi. He then continued his studies in harmony, orchestratrion, composition as well as in counterpoint music with Rodolfo Mederos, Gabriel Senanes, Daniel Montes and Francisco Kroftl. He moved to Barcelona where he started a career as a composer at the Conservatorio Profesional de Badalona together with Alejandro Civilotti.
For the Compañía de baile Lanonima Imperial he writes the music for the ballets "Diario de Unas Horas" and "Gestos del Camino". He composes a work for marimba and quintette; "Milonga para Miles" a piece for trumpet, bandoneon and string orchestra in honour of Miles Davis; as well as "Tres Rincones", a work  for bandoneon and string orchestra in three movements. The recording of this work was nominated for the Grammy Latin Awards in 2004. Furthermore he has written pieces such as "Fuga Parisina" for bandoneon and chamber orchestra and the chamber music pieces "El Quijote", "Raptos" and "Breaking silence". His opera "Ultramarina", based on texts by Edgardo Cozarinsky and scenarised by Marcelo Lombardero premiered in May 2014 in Buenos Aires and received critical acclaim.
As a Bandoneon player Pablo Mainetti has worked with the most important Argentinian formations and his career has led him on to the most prominent stages in Argentina, Uruguay, Brazil, Spain, England, France, Germany, Italy, United States of America, Japan, China and Korea where he worked together with artists such as Rodolfo Mederos, Roberto Goyeneche, Julian Plaza, Emilio Balcarce, Julio Pane, Osvaldo Berlingieri, Ute Lemper, Carlos Cano or Joan Manuel Serrat. On numerous occasion he has performed Astor Piazzola´s Concierto para Bandoneón i.e. with the Orquesta del Teatre Liure (Barcelona), the Orquesta de la Comunidad de Granada, the BBC in London, the Theatre du Capitol de Tolouse and the Orquesta Nacional de España, directed by Josep Pons and recorded for the label Harmonía Mundi, as well as the Real Filarmonía de Galicia, directed by Manuel Valdivieso. He is a member of the Quinteto de la Fundación Piazzola and additionally has his own quintet. Pablo Mainetti is professor of bandoneon at the Conservatorio de Música de la Ciudad de Buenos Aires and at the  Conservatorio Manuel de Falla.
Austrolatin Orchester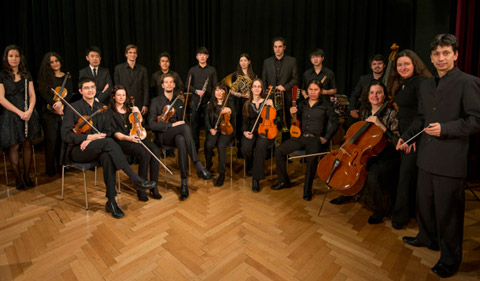 Since 2011 there is a fusion of classical music and musicians from Europe and Latin America in Vienna. The name of this innovative project: Austrolatin Orchestra. Founded in 2010 by Anabell Garfio (Mexico), Luis Cordero (Guatemala), Martin Wacks (Austria) and Luis Carlos Muñoz (Colombia), our goal is to offer the best of European and Latin classical music in the music city of Vienna. This makes every concert a new musical experience for the audience as well as for the musicians.